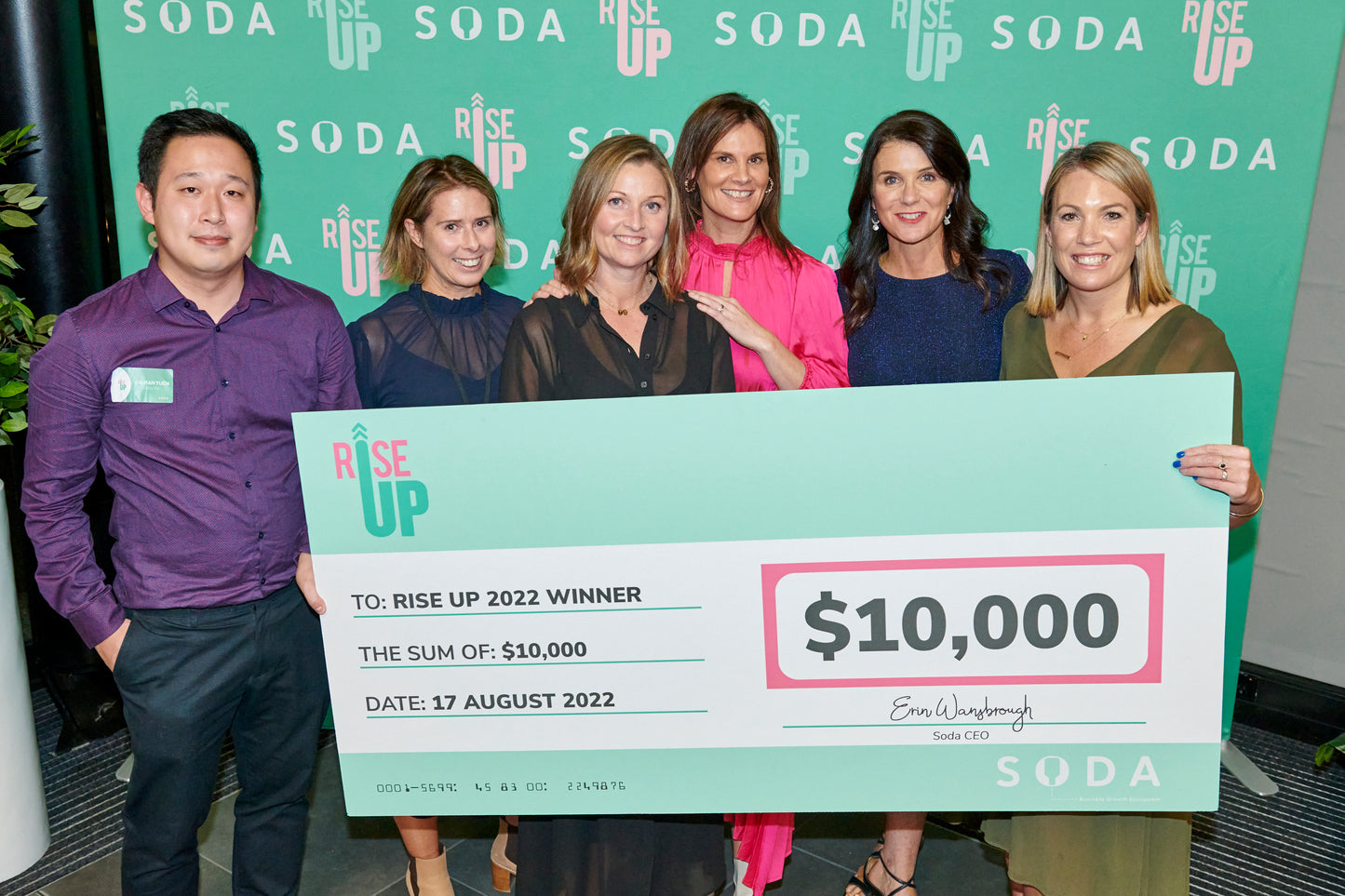 Secret Kitchen and Finery Cocktails in pick of Aotearoa's latest female founders to go before judges this month, share insights on the journey so far.
Some of us spent lockdown bingeing on TV shows while others spent it dreaming up new business ideas. Going by the latest impressive line-up of RISE UP finalists, New Zealand's latest pick of female founders spent the pandemic innovating, problem solving and putting their heart and soul into dreaming up new start-ups.
"I love the fact that most of our finalists' businesses were born out of lockdown. It demonstrates that creativity and innovation can emerge from our most tough times. We're excited to help grow the capability of these aspirational female founders and I can't wait to see what these businesses achieve", says Soda CEO, Erin Wansbrough.
Soda, the Hamilton-based business incubator and advisory service, created RISE UP to encourage and support ambitious female founders. "For a long time, Aotearoa's entrepreneurship ecosystem has been male dominated but there are many of us working hard to challenge the bias and balance that gender inequity," says Wansbrough. "Judging by the number and calibre of entries we received, I'm confident that female entrepreneurship in Aotearoa is moving in the right direction."
The six RISE UP finalists were announced in June of this year and are about to be judged later this month. All finalists will attend a series of founder-focused workshops before pitching their business to a public audience and panel of high-profile judges at Wintec House in Hamilton on 17 August, to try to win $10,000 to help propel their business to the next level.
Finalists include a diverse group of female entrepreneurs who have developed biodegradable coffins made from cardboard, eco-friendly toothpaste, sustainable cleaning products and an app that encourages healthy spending and saving habits. Two foodie offerings with product set to tantalise the tastebuds are Secret Kiwi Kitchen's artisan baking mixes, and Finery Cocktails' ready-to-pour zero alcohol cocktails.
Finery Cocktails
Finery Cocktails offers a range of unique ready-to-pour cocktails, including alcohol free options. The Takapuna-based business has been built on brand ethics of promoting moderation and healthy relationships with alcohol while exploring better for you No Alcohol alternatives. Founder Jane Allan says that after competing in a body challenge in late 2018 it became apparent very quickly that "better for you" beverage options were few and far between.
"It didn't feel right to have to compromise on beverages when I wasn't having to do the same with food", says Allan. "So in January 2019 I started working on the business idea casually whilst managing multiple renovation projects."
In July 2020 Finery Cocktails launched a first to market ready to drink zero per cent adult beverage option to New Zealand supermarkets, handily catching the wave of interest in interesting new low-or-no-alcohol drinks. Today Finery Cocktails exports to Australia, Singapore and Rarotonga, with more international markets in the pipeline.
Allan enjoys receiving feedback from customers about how Finery Cocktail products have changed their drinking habits. She is particularly proud of the company's zero per cent range. "It's great knowing we're making a difference to our consumers wellbeing and helping to normalise a moderated drinking culture for future generations", she says.
Another bonus is the experience of walking into a store and seeing her product on a supermarket shelf. "Even better when you see a shopper putting it in their trolley!" she says.
Biggest Challenge / Best Advice
Allan says the biggest challenge so far in her entrepreneurial journey has been remembering that Rome was not built in a day. "Being self funded and a very small team there is only so much ground we can cover", she says. "I try to remember to celebrate the wins no matter how small. To stop and be thankful, then keep on going."
The best advice she has been given so far is to consider each business relationship the company forms to be a partnership. "To get the best out of each other it needs to work for both of you. If it's not working or when it stops working, be honest, make a change or move on", says Allan. Her advice for other Kiwi female entrepreneurs is that you can never do too much planning and research. "Whatever you budget for a start up, plan on that cost tripling, and maybe not working the first time around. Be prepared to pivot, don't be disheartened, just try again a different way."
Finery Cocktails is still family owned and operated, now exporting to Australia, Singapore and Rarotonga with the UAE currently in the pipeline. Allan says if she won RISE UP, she would you use the money to solidify the company's business strategy for investment to fast-track growth in New Zealand and cement global partnerships.
Rise Up 2022
All six finalists will attend a series of founder-focused workshops before pitching their business to a public audience and panel of high-profile judges at Wintec House in Hamilton on 17 August 2022 to try to win $10,000 to help propel their business to the next level.
The Rise Up Pitch Night is a free event but tickets are limited so please register for tickets at www.sodainc.com/riseup. It will be an inspiring night hearing from the six finalists and judging panel which includes experienced entrepreneurs Anna Mowbray, Kelvin Soh, Mike Jenkins, Maree Glading and Kaye-Maree Dunn. The audience will have an opportunity for to vote for their favourite business which will be awarded the People's Choice winner.
Want to read the full article? Check it our here: https://thefeed.co.nz/2022/08/10/next-generation-baking-and-natural-cocktails-inspiring-aotearoas-latest-female-founders/